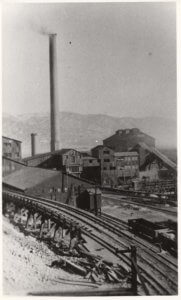 The third annual Open House at the Salida Museum will be Saturday, May 13, from 11 a.m. until 5 p.m. It will feature new exhibits (check out Elmo Bevington), our new LED lighting, and a special presentation on railroad history saluting the smelter smokestack, Chaffee County's tallest landmark constructed 100 years ago.
At 1:00 pm, John McCarthy, local railroad historian, will discuss the smelter smokestack as one of the few remaining reminders of Salida's industrial era, which included hundreds of mines and the Denver & Rio Grande Railroad, which helped shape the County we see today.
The Open House also features local author Dick Dixon who will be available to sign copies of his book, Smokestack: The Story of the Salida Smelter, and answer questions.
Admission will be FREE all day! Hope to see you there.