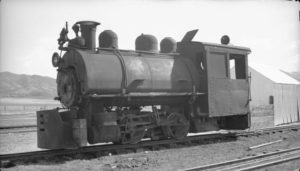 In 1953, the Koppers Company of Pittsburgh donated a Porter Engine to the Salida Museum following the closure of its railroad tie-treating, creosote plant in Smeltertown near Salida. Built in 1926, the engine moved trams loaded with railroad ties to and from the treating shed. It is a two-foot gauge engine, with saddle tank and 0-4-0 wheel arrangement. This "dinky" was also known as the "Yard Goat" by local workers.
According to records, only 130 of the 24-inch gauge tank engines were made by Porter, compared to a larger number of 36-inch models, a fact, which if true, makes the Salida Museum's engine quite rare. (From The Porter Locomotive, in Steam Locomotive—April, 1960—Starrucca Valley Publications William S. Young, Editor & Publisher.)
This summer we will be doing preservation work on the engine (primarily painting and replacing some missing parts) to preserve it on static display for future generations because of its historical significance to the area. If you'd like to help out, please visit our donation page.